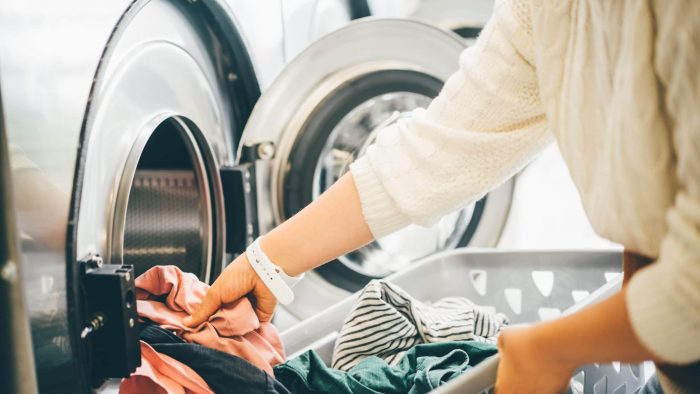 When you are in the process of choosing an appliance for your home, it is easy to get lost in a sea of decisions such as:
Which brand or model is best?
How much do you want to spend?
Where should you buy it from?
But when purchasing a washing machine, one of the first decisions you will have to make is simple: front-load or top-load.
At Apex Appliance, we have you covered regardless of which washing machine you settle on. If you need an issue fixed with your washer, our washing machine repair technicians will be at your home as soon as possible. We even offer a wide selection of parts for many makes and models so you can fix your unit on your own if you prefer.
Still, it is best to know all your options before making an appliance purchase. Let us take a look at the differences between front-load and top-load washing machines so you can feel confident in your purchasing decision.
Front-Load Washing Machines
Pros
One of the best things about
is that they clean more efficiently. In fact, tests have shown that front-loaders remove more soils from fabric than top-loaders. They also use less water and energy to get better results than their top-loading counterparts.
Additionally, these washing machines are a great option if you do not have much space available for your laundry units. You can easily stack a front-load washing machine underneath a front-load dryer.
However, keep in mind that certain problems may be impossible to fix while the units are stacked. Our washer repair technicians will need to unstack your washer and dryer to carry out necessary repairs.
Cons
Of course, one of the most common complaints with front-loaders is that they are difficult to load and unload. If you suffer from back pain, for example, a front-loading washing machine may not be the best choice.
Because front-loading washers must seal shut to prevent leaks, it is easier for mold and mildew to form than in top-loaders. This can cause an unpleasant odor. However, simply wiping down the door and gasket after every use can go a long way in preventing this.
Additionally, overloading is always a problem, regardless of the washer type. When it comes to front-loaders, they tend to wear out more easily due to overloading than do top-loaders.
Top-Load Washing Machines
Pros
Top-load washing machines are easy to use. Many people appreciate how easy it is to load and unload a top-load washer. Also, your laundry room layout may be better suited for a washer door that opens upwards as opposed to out.
Comfort, convenience, and tradition play a big role in appliance purchasing decisions. Maybe that is why 76% of washing machines shipped in 2015 were top-loaders, according to the
.
Cons
If you want an environmentally friendly unit, a top-loader probably is not the best choice. Compared to front-loaders, top-loaders generally use double the amount of water. However, you can
by choosing a high-efficiency top-loader, which uses water at a similar rate to front-loaders.
Additionally,
spin up to 33% faster than top-loaders, removing more water from your laundry before you move it to your dryer. This decreases the length of time your load spends in the dryer, saving time as well as energy.
Apex Appliance Is Here to Help
Whether you end up buying a front-load washing machine or a top-load washer, we hope it lasts for years to come. However, our Grand Rapids, MI, appliance repair technicians know all too well that unexpected problems can arise. If your washing machine is experiencing issues, Apex Appliance is here to help. Call us today at (616) 363-9894, or contact us online.